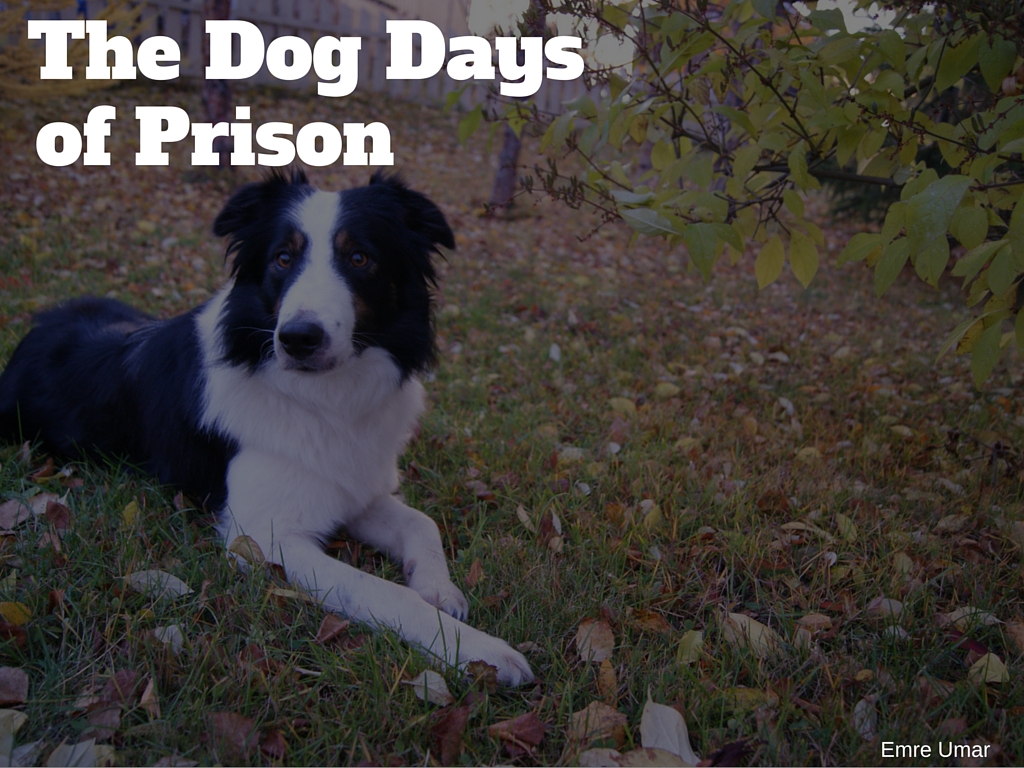 Since the late 1970s, therapy dogs have been used in an almost unlimited capacity. From retirement homes and hospitals to college campuses, dogs have been shown repeatedly to have calming effects on those who play with, pet, or even just sit in the presence of the dogs. And therapy animals aren't just limited to dogs; human-animal interaction has been long proven to have anti-stress effects and promote social interaction. Now, with these studies and understandings in tow, animal therapy is slowly making its way into the prison yard.
Therapy dogs have been making appearances in prisons in Italy for a time now with enormous success. Bollate prison, where the Dogs Inside program is in effect, has seen its repeat offender rate drop to an incredibly low 20 percent since utilizing the program and other similar ones.
According to Therapy Dogs United, "Medical science shows that interaction with a therapy dog can reduce blood pressure, promote physical healing, reduce anxiety, fatigue and depression, and provide emotional support." Therapy dogs are often used for those who fall on the Autism spectrum or those who find themselves inundated with stress.
Programs that pair animals–sometimes dogs, sometimes abandoned animals of all species–with prisons have more than simply calming effects on the inmate. They, like the gardening programs mentioned previously, can help prepare the inmates for life outside of prison.
And the benefits extend beyond those offered to the inmates. Often, the animals who are trained to become therapy animals for use in prison are rescued former pets who were, much like some of the prison inmates they're trained to help, were simply waiting in a cage on what amounts to the animal equivalent of death row. These rescue animals have been introduced to prisoners who go years without seeing or interacting with any sort of fuzzy friends.
The interactions give offenders valuable time not only to destress, but to learn and grow as individuals. The inmates involved with these programs are often asked to help with the training of the dogs themselves, creating a mutually beneficial environment in which both parties can grow and thrive. The inmates learn about the care and training regiments of dogs while the dogs become more accustomed to human behavior, allowing them to act as therapy dogs in the future. From there, the dogs are often adopted, based on skill-set, into families or job settings in need of therapy animals.
And the human-animal interactions don't just stop at dogs–not even close. In Key West, Florida at the Stock Island Detention Center, inmates are given the opportunity to help take care of and perform daily maintenance for a wide variety of animals, from alpacas and tortoises to pigs and ducks. The collection of farm animals, which also includes a mini horse, are all obtained by the Monroe County prison through various means, taking in animals that would otherwise be without owners or caretakers.
The prisoners, who work at the farm as a part of a trustee program under guidance from guards and animal biologist Jeanne Selander, help feed, clean up and groom the animals.
"A lot of the inmates maybe have never had anybody that cared about them," Selander said in an interview with Upworthy. "And to see that the animals need them … it means something to them. And they really take good care of them and I have some of them say, 'You're in jail just like me.'"
News of new and burgeoning means of prisoner rehabilitation comes on the tail of President Obama's focus on rehabilitation as a means of treatment in place of punishment. As more and more creative–and effective–prison programs continue to appear around the country, the US has begun to make strides towards lowering its prison readmission rate.